John 1:16 "Out of His fullness, we have all received grace upon grace" (The apostle John)
Lisa De Vries, MA, CCC - Chilliwack, BC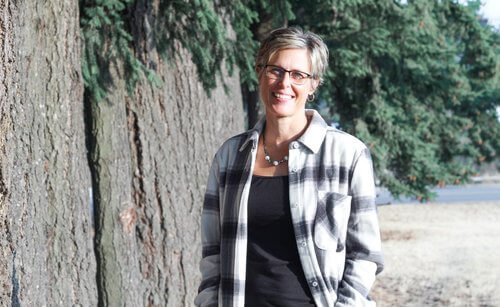 Quick Facts
Lisa is not accepting new clients at this time.

Lisa is a Certified Canadian Counsellor (CCC) with the CCPA and has an M.A. in Counselling Psychology from TWU.

She has 20+ years experience as a therapist working with individuals and couples in a variety of professional settings.

She founded Mercy Seat Ministry in 2013, to provide counselling services which integrate psychological care with Christian discipleship.

Lisa is the team leader at MSM and invests in the training and development of our team of faith-integrated therapists.
Change is an intimate experience which requires vulnerability, humility, and hope. Your safety and empowerment in the journey are of utmost importance to me. Whether teaching, facilitating or counselling, I hope to collaborate with you, to seek God with you, and to see you move toward the life and freedom you desire. You can count on me to bring knowledge and experience to each encounter, but more than that, the wisdom to help you discover the depth of knowledge and experience you have within you. Together, we will sort through whatever is causing you to feel stuck, and with God's help, equip you with effective tools to heal, overcome, and thrive in all aspects of your life.
If you're interested in the theoretical gab, my clinical practice is grounded in a combination of Emotionally Focused Therapy (EFT), Internal Family Systems (IFS), Cognitive Behavioural Therapy (CBT) and Observed and Experiential Integration (OEI). My greatest passion; however, lies in the intersection of psychology and faith. I enjoy examining psychological findings and effective practices in light of the wisdom of Christ, and the creativity of God. I find the overlap downright astounding.
My approach is rooted in the quest to find hope, freedom and healing, more than it is in pathology. I am equipped to work with people who are struggling with anxiety, depression, relational difficulties, unwanted habits, and trauma recovery, but do not define my work as specializing with any particular malaise. I am motivated to journey with you from wherever you are stuck to the spacious places marked by resilience, compassion, forgiveness, transformation and growth.
If you'd like to know a bit about me as a person, here are a few details…I love God, love His mercy, and want to follow Him, although my road in doing so has been pretty messy. I love my family, which is made up of my husband, three kids and a whole bunch of extended connections. I also enjoy adventure, the outdoors (hiking, biking, paddling, etc), music, and new experiences.  
If you're thinking of reaching out, I look forward to connecting with you. You are valuable, and your story is important. It would be a privilege to me to be invited into it for a season.